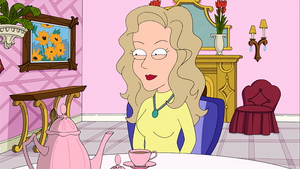 Nicole Mary Kidman is an American-born Australian actress, fashion model, singer and humanitarian. Kidman has been a Goodwill Ambassador for UNICEF Australia since 1994. In 2006, Kidman was made a Companion of the Order of Australia, Australia's highest civilian honour. In 2006, she was the highest-paid actress in the motion picture industry. She is also known for her marriage to Tom Cruise.
Cleveland sets up a cutaway in "Our Gang" about Nicole not being able to laugh. When a serving maid farts, she giggles until her face shatters. A comment on her many plastic surgeries.
Ad blocker interference detected!
Wikia is a free-to-use site that makes money from advertising. We have a modified experience for viewers using ad blockers

Wikia is not accessible if you've made further modifications. Remove the custom ad blocker rule(s) and the page will load as expected.