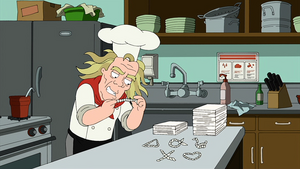 Nicholas King "Nick" Nolte (born February 8, 1941) is an American actor, film producer and former model. Nolte first gained national attention and critical acclaim for his performance in Rich Man, Poor Man, the 1976 television miniseries based on Irwin Shaw's 1970 best-selling novel. Nolte's first major film role was in 1977's The Deep starring opposite Jacqueline Bisset and Robert Shaw. This was followed by Who'll Stop the Rain in 1978 and North Dallas Forty, based on the Peter Gent novel, in 1979. The buddy cop/convict film 48 Hrs. (1982) would strongly bolster his film career and make his co-star Eddie Murphy a box-office sensation.
Nick Nolte is employed as 'The Crazy Chef' at Cheese E. Charlie's in "From Bed to Worse" where he makes "twisty napkins".
Ad blocker interference detected!
Wikia is a free-to-use site that makes money from advertising. We have a modified experience for viewers using ad blockers

Wikia is not accessible if you've made further modifications. Remove the custom ad blocker rule(s) and the page will load as expected.