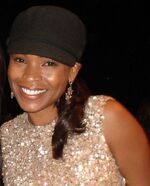 Nia Long born October 30, 1970 in Brooklyn, New York, was the original voice of Roberta Tubbs. She was replaced by Reagan Gomez beginning with the episode "The Curious Case of Jr. Working at the Stool".
Ad blocker interference detected!
Wikia is a free-to-use site that makes money from advertising. We have a modified experience for viewers using ad blockers

Wikia is not accessible if you've made further modifications. Remove the custom ad blocker rule(s) and the page will load as expected.