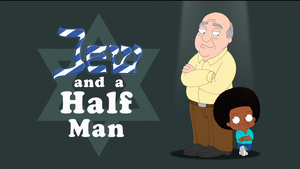 The episode contains numerous references to the movie E.T. including hiding Murray in the closet and his encounter with Cleveland Jr.
Jew and a Half Man is a parody of the sitcom Two and a Half Men, complete with similar-sounding bumper music.
The game Fiddler On the Roof that Murray and Rallo play is parody of Guitar Hero.
Murray refers to Rallo as "Rochester", a nod to the on-air personal servant of comedian Jack Benny.
Ad blocker interference detected!
Wikia is a free-to-use site that makes money from advertising. We have a modified experience for viewers using ad blockers

Wikia is not accessible if you've made further modifications. Remove the custom ad blocker rule(s) and the page will load as expected.