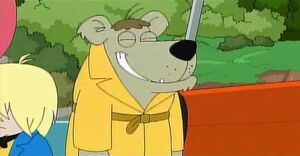 Mumbly is a cartoon dog character notable for his wheezy laugh, voiced by Don Messick. Mumbly bears a strong resemblance to Muttley from the animated series Wacky Races and Dastardly and Muttley in their Flying Machines. Like Muttley, Mumbly does not really talk; he mumbles and grumbles unintelligibly, and often uses his trademark snicker.
Mumbly appears in "Ship'rect" on a boat crewed by vaguely evil looking characters intended to parody the team of the "Really Rottens" in the cartoon show the Laff-A-Lympics.
Ad blocker interference detected!
Wikia is a free-to-use site that makes money from advertising. We have a modified experience for viewers using ad blockers

Wikia is not accessible if you've made further modifications. Remove the custom ad blocker rule(s) and the page will load as expected.