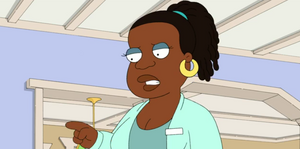 Mrs. Bailey is the supervisor at the Stoolbend Rest Home where Rallo and resident Murray get to know each other in "Murray Christmas". When Rallo decides to sneak Murray out of the home and keep him hidden in his room, Mrs. Bailey comes looking for his concerned that he can't take his medicine to keep him alive. As Murray gets worse, Rallo struggles with the decision to keep Murry or not until he decides to come clean. Visiting A distraught Murray back at the home, Rallo and Cleveland free the residents despite Mrs. Bailey's protests and take them back to the Brown home for Christmas.
Dawnn Lewis provides the voice of Mrs. Bailey.
Ad blocker interference detected!
Wikia is a free-to-use site that makes money from advertising. We have a modified experience for viewers using ad blockers

Wikia is not accessible if you've made further modifications. Remove the custom ad blocker rule(s) and the page will load as expected.