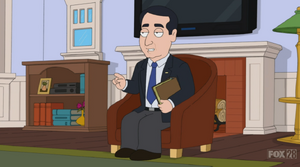 Michael William "Mike" Krzyzewski; nicknamed "Coach K"; (born February 13, 1947) is an American basketball coach and former player. Since 1980, he has served as the head men's basketball coach at Duke University. At Duke, Krzyzewski has led the Blue Devils to four NCAA Championships, 11 Final Fours, 12 Atlantic Coast Conference (ACC) regular season titles, and 13 ACC Tournament championships. Krzyzewski is also the coach of the United States men's national basketball team, whom he led to a gold medal at the 2008 Summer Olympics and the 2010 FIBA World Championship. He was an assistant coach on the 1992 "Dream Team".
In "Frapp Attack!", Cleveland Brown considers Willy Nilly's offer of being a Hollywood celebrity against of offer from Coach K who returns an offer of a good education and basketball program at Duke. Cleveland appreciates Coach K's offer but decides to take Willy Nilly up on Hollywood. Coach K asks Cleveland Brown Jr. about his future and Junior retorts that he'd rather hit himself in the head with a mallet than go to Duke and proceeds to do that in order to participate in his own chosen sport of bird watching.
Ad blocker interference detected!
Wikia is a free-to-use site that makes money from advertising. We have a modified experience for viewers using ad blockers

Wikia is not accessible if you've made further modifications. Remove the custom ad blocker rule(s) and the page will load as expected.