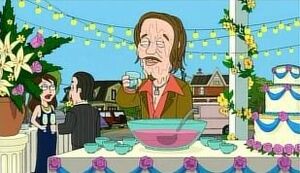 Philip Andre "Mickey" Rourke, Jr. (born September 16, 1952) is an American actor and screenwriter who has appeared primarily as a leading man in action, drama, and thriller films.
He won a 2009 Golden Globe award and a BAFTA award, and was nominated for a Screen Actors Guild Award and an Academy Award for his work in the film The Wrestler. He appears as the main villain Whiplash in Iron Man 2 ' and is also known for playing Marv in Sin City.
Cleveland Jr. is concerned about the Mickey Rourke ice sculpture when Cookie and Freight Train's wedding doesn't go off on schedule in "You're the Best Man, Cleveland Brown" until Cleveland points out that the figure of Mickey Rourke isn't an ice sculpture.
Ad blocker interference detected!
Wikia is a free-to-use site that makes money from advertising. We have a modified experience for viewers using ad blockers

Wikia is not accessible if you've made further modifications. Remove the custom ad blocker rule(s) and the page will load as expected.