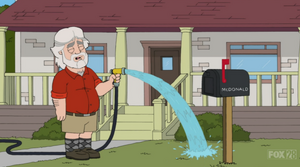 Michael McDonald (born February 12, 1952) is a gold and platinum-selling American R&B/soul singer and songwriter. He is sometimes described as a "blue-eyed soul" singer and sings in a distinctive "husky, soulful" yet baritone range. He is known for his work as a member of the Doobie Brothers, Steely Dan, Goldstar, and for several hits as a solo artist.
Michael McDonald voices himself in "Skip Day" as he sings along with Holt to "Ride Like the Wind" and again in "Mama Drama" when he sings believing Cleveland is having a yard sale.
Ad blocker interference detected!
Wikia is a free-to-use site that makes money from advertising. We have a modified experience for viewers using ad blockers

Wikia is not accessible if you've made further modifications. Remove the custom ad blocker rule(s) and the page will load as expected.