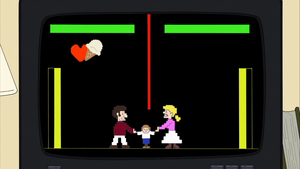 Meryl Streep (born Mary Louise Streep; June 22, 1949) is an American actress who has worked in theater, television, and film with roles in The Deer Hunter, Kramer vs. Kramer, Sophie's Choice, Out of Africa, The Iron Lady and August: Osage County.
Meryl Streep appears as a digitized, 8-bit game character in Kramer vs. Kramer: The Game. When Cleveland buys his old belongings back from his father in "The Way the Cookie Crumbles, he finds the game in his belongings and plays with Terry Kimple while the rest of his friends admire his old stuff.
Meryl Streep is voiced by Aseem Batra.
Ad blocker interference detected!
Wikia is a free-to-use site that makes money from advertising. We have a modified experience for viewers using ad blockers

Wikia is not accessible if you've made further modifications. Remove the custom ad blocker rule(s) and the page will load as expected.