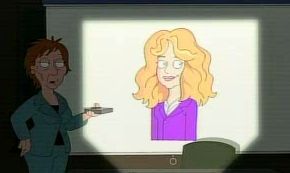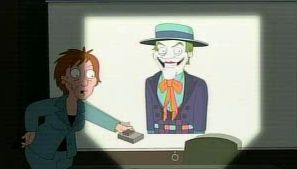 Margaret Mary Emily Anne Hyra (born November 19, 1961), known by her stage name Meg Ryan, is an American film actress whose lead roles in five films - When Harry Met Sally..., Sleepless in Seattle, French Kiss, City of Angels and You've Got Mail - grossed over $870 million worldwide.
A title card in Field of Steams dedicated a joke used from the Meg Ryan movie When Harry Met Sally... to her original face.
When Ms. Eck tries to show Roberta the folly of relying on her looks in "Love Rollercoaster", she shows examples of Pam Anderson, Kirsten Dunst and Meg Ryan after their looks had faded. In Meg's case, as the Joker from the 1989 Batman film.
Ad blocker interference detected!
Wikia is a free-to-use site that makes money from advertising. We have a modified experience for viewers using ad blockers

Wikia is not accessible if you've made further modifications. Remove the custom ad blocker rule(s) and the page will load as expected.