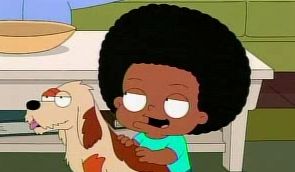 Meadowlark Lemon was the Tubbs family's dog. He was seen playing with Rallo in the "Pilot". In "Da Doggone Daddy-Daughter Dinner Dance", Cleveland accidentally ran over him with his car. After trying to cover up the truth, Cleveland gave the body to Lester, who ate him with his family, to which he called "Chinese food". Meadowlark Lemon was named after a Harlem Globetrotters player, who was inducted in the Basketball Hall of Fame.
Cleveland looks out of the house window at Meadowlark's gravestone in "Frapp Attack!".
Appearances
Ad blocker interference detected!
Wikia is a free-to-use site that makes money from advertising. We have a modified experience for viewers using ad blockers

Wikia is not accessible if you've made further modifications. Remove the custom ad blocker rule(s) and the page will load as expected.