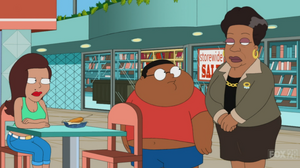 Maya Angelou (born Marguerite Ann Johnson, April 4, 1928 - May 28, 2014) was an American author and poet. She is best known for her series of six autobiographical volumes, which focus on her childhood and early adult experiences.
She appears in "There Goes El Neighborhood" when she randomly stops by the Stoolbend Galleria to ask if Cecilia was going to finish a corndog.
Maya is voiced by Kevin Michael Richardson.
Ad blocker interference detected!
Wikia is a free-to-use site that makes money from advertising. We have a modified experience for viewers using ad blockers

Wikia is not accessible if you've made further modifications. Remove the custom ad blocker rule(s) and the page will load as expected.