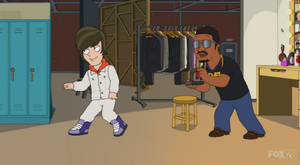 Maxwell Henry Wolf "Max" Burkholder (born November 1, 1997) is an American child actor most noteable for his role Max Braverman, who has Asperger Syndrome, in the NBC series Parenthood. Prior to that, he became known as a voice actor, among his many roles were those of Chomper in The Land Before Time television series based on film series of the same name. He also provides the voice of Roo on My Friends Tigger & Pooh, and played "World", the imaginary friend inside a toybox in the Foster's Home for Imaginary Friends movie "Destination: Imagination". He also provides many miscellaneous child voices for Family Guy.
Max provided the voice of Justin Bieber in "The Men in Me", "Truepopperking33" in "All You Can Eat" and has other voice credits in "American Prankster".
Ad blocker interference detected!
Wikia is a free-to-use site that makes money from advertising. We have a modified experience for viewers using ad blockers

Wikia is not accessible if you've made further modifications. Remove the custom ad blocker rule(s) and the page will load as expected.