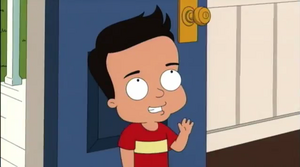 Marco is Choni's son whom she asks Cleveland Brown to babysit in "There Goes El Neighborhood" when her babysitter cancels on her. Cleveland gets into a bind when he winds up losing him.
Marco is enrolled at Harper Elementary School and joins Rallo at lunch in "Fist and the Furious".
Marco is voiced by Miggi Donahoe.
Ad blocker interference detected!
Wikia is a free-to-use site that makes money from advertising. We have a modified experience for viewers using ad blockers

Wikia is not accessible if you've made further modifications. Remove the custom ad blocker rule(s) and the page will load as expected.