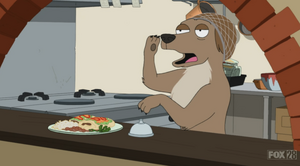 Lupo is a dog chef that works at Choni's Cantina. In "There Goes El Neighborhood", he teaches Cleveland Brown Jr. to dance.
Lupo works Choni's food truck in "Fist and the Furious".
Lupo is voiced by Jason Sudeikis.
Ad blocker interference detected!
Wikia is a free-to-use site that makes money from advertising. We have a modified experience for viewers using ad blockers

Wikia is not accessible if you've made further modifications. Remove the custom ad blocker rule(s) and the page will load as expected.