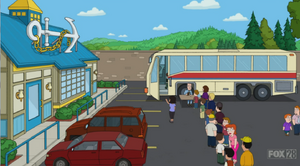 Long John Silver's, Inc. is a United States-based fast-food restaurant that specializes in seafood. The name of the brand is borrowed from the novel Treasure Island by Robert Louis Stevenson, in which the pirate Long John Silver is one of the main characters. Formerly a division of Yum! Brands, Inc., the company was divested to a group of franchisees in 2011.
In "American Prankster", Wally Farquhare notes that as their freedom Scouts are preparing for a wilderness trip, the Boy Scouts are preparing for their own trip at that moment in the parking lot of the Long John Silver's. The bus driver, who is later seen behind bars, judges each boy's attractiveness before letting them take a uniforn and go on the trip.
Ad blocker interference detected!
Wikia is a free-to-use site that makes money from advertising. We have a modified experience for viewers using ad blockers

Wikia is not accessible if you've made further modifications. Remove the custom ad blocker rule(s) and the page will load as expected.