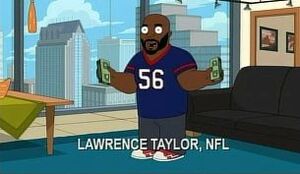 Lawrence Julius Taylor (born February 4, 1959) is a Hall of Fame former American football player. Taylor played his entire professional career as a linebacker for the New York Giants in the National Football League (NFL).
Lawrence Taylor appears to help promote Slim Biggins' Big Nugget Riverboat Casino in "Cleveland's Angels".
Voiced by Kevin Michael Richardson.
Ad blocker interference detected!
Wikia is a free-to-use site that makes money from advertising. We have a modified experience for viewers using ad blockers

Wikia is not accessible if you've made further modifications. Remove the custom ad blocker rule(s) and the page will load as expected.