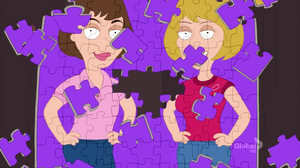 Laverne & Shirley was an American television situation comedy that ran on ABC from January 26, 1976 to May 10, 1983. It starred Penny Marshall as Laverne De Fazio and Cindy Williams as Shirley Feeney, roommates who worked in a fictitious Milwaukee brewery called "Shotz Brewery."
The show was a spin-off from Happy Days, as the two lead characters were originally introduced on that series as acquaintances of Fonzie. Set in roughly the same time period as Happy Days, the Laverne & Shirley timeline started in approximately 1959, when the series began, through 1967, when the series ended.
While fighting in Cleveland's old room at his parent's house in "Hustle 'N' Bros.", Roberta Tubbs throws Cleveland's Laverne & Shirley 98 piece jigsaw puzzle at him that he had been working on for more than thirty years. When they bond later over drinks taken from LeVar Brown's liquor cabinet, Robert apologies, admitting that the puzzle would have taken him forever to finish as well.
Ad blocker interference detected!
Wikia is a free-to-use site that makes money from advertising. We have a modified experience for viewers using ad blockers

Wikia is not accessible if you've made further modifications. Remove the custom ad blocker rule(s) and the page will load as expected.