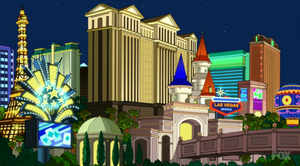 Las Vegas is the most populous city in Nevada, United States, the seat of Clark County, and an internationally renowned major resort city for gambling, shopping and fine dining. Las Vegas, which bills itself as The Entertainment Capital of the World, is famous for the number of casino resorts and associated entertainment.
In "The One About Friends" Holt and Tim go to Vegas. Tim has a great time, while Holt begs with the bouncer to let him in, despite looking underage and leaving his ID at his mom's house.
In "Another Bad Thanksgiving", Holt and Donna's sister Janet run off to Las Vegas to get married, leaving her two bratty kids with Donna who pursues them to get them to cancel the wedding.
Ad blocker interference detected!
Wikia is a free-to-use site that makes money from advertising. We have a modified experience for viewers using ad blockers

Wikia is not accessible if you've made further modifications. Remove the custom ad blocker rule(s) and the page will load as expected.