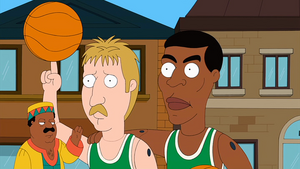 Larry Joe Bird (born December 7, 1956) is a former American NBA basketball player and coach. Drafted into the NBA sixth overall by the Boston Celtics in 1978, Bird started at small forward and power forward for thirteen seasons, teaming with legendary center Robert Parish and forward Kevin McHale. Due to back problems, he retired as a player from the NBA in 1992. Bird was voted to the NBA's 50th Anniversary All-Time Team in 1996 and inducted into the Naismith Memorial Basketball Hall of Fame in 1998. He served as head coach of the Indiana Pacers from 1997 to 2000. In 2003, he assumed the role of president of basketball operations for the Pacers, which he currently holds.
Larry Bird and Robert Parish are shown as figures on a float that Cleveland and Lester are forced to create in the Stoolbend Unity Parade in "Brown History Month".
Ad blocker interference detected!
Wikia is a free-to-use site that makes money from advertising. We have a modified experience for viewers using ad blockers

Wikia is not accessible if you've made further modifications. Remove the custom ad blocker rule(s) and the page will load as expected.