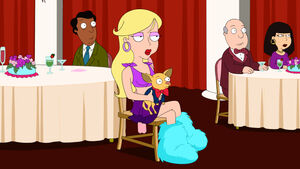 Lacey Stapleton is the spoiled popular rich girl in Stoolbend and becomes Roberta's rival in "The Curious Case of Jr. Working at the Stool". She carries around a small dog with her as a parody of Paris Hilton. She is considered a "boujee private school ho from around the way" by Donna. She is the daughter of Fern Stapleton and sister of Kyle Stapleton.
Lacey is voiced by Ashley Tisdale.
Ad blocker interference detected!
Wikia is a free-to-use site that makes money from advertising. We have a modified experience for viewers using ad blockers

Wikia is not accessible if you've made further modifications. Remove the custom ad blocker rule(s) and the page will load as expected.