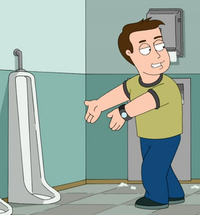 Kyle is a student that, at first, picks on Cleveland Brown Jr. in his first day of school at Stoolbend High School. He later becomes friends with him when he finds him useful in "Da Doggone Daddy-Daughter Dinner Dance".
Kyles is voiced by John Viener.
Appearances
Ad blocker interference detected!
Wikia is a free-to-use site that makes money from advertising. We have a modified experience for viewers using ad blockers

Wikia is not accessible if you've made further modifications. Remove the custom ad blocker rule(s) and the page will load as expected.