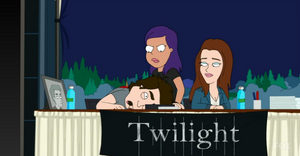 Kristen Jaymes Stewart (born April 9, 1990) is an American actress. She is best known for playing Bella Swan in The Twilight Saga. She has also starred in films such as Panic Room, Zathura, In the Land of Women, The Messengers, Adventureland and The Runaways.
She appears at a Twilight booth at Comic-con in "Hot Cocoa Bang Bang" with co-star Robert Pattinson. When the nerds led by Cleveland Brown Jr. decide to take back comic-con from the Hollywood types that have taken over a Buffy the Vampire Slayer fan stabs Robert with a wooden stake. When Kristen protests that it's just characters they play she is also stabbed.
Ad blocker interference detected!
Wikia is a free-to-use site that makes money from advertising. We have a modified experience for viewers using ad blockers

Wikia is not accessible if you've made further modifications. Remove the custom ad blocker rule(s) and the page will load as expected.