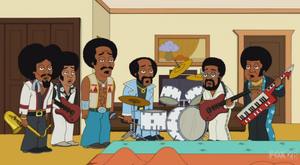 Kool & the Gang are an American jazz, R&B, soul, and funk group, originally formed as the Jazziacs in Jersey City, New Jersey in 1964.
They went through several musical phases during the course of their recording career, starting out with a purist jazz sound, then becoming practitioners of R&B and funk, progressing to a smooth pop-funk ensemble, and in the post-millennium creating music with a modern, electro-pop sound. They have sold over 70 million albums worldwide.
When Cleveland celebrates lovemaking to Donna he sings Kool & the Gang's "Celebration". But when she puts his plans on ice in "Brown Magic", he has to tell the band there won't be any celebrating that evening which bums the band out.
Ad blocker interference detected!
Wikia is a free-to-use site that makes money from advertising. We have a modified experience for viewers using ad blockers

Wikia is not accessible if you've made further modifications. Remove the custom ad blocker rule(s) and the page will load as expected.