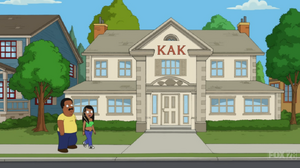 Kappa Alpha Kappa (KAK) is Cleveland Brown's former fraternity at State college.
When browsing a college fair for Roberta in "B.M.O.C.", Cleveland is told of homecoming coming up at the old college. He decides to escort Roberta to her interview at the college and see his old stomping grounds again. But when he stops by the frat house, the current members decide to prank him and the other former members by getting them into a drinking game and then trying Cleveland to a donkey after he passes out. Meanwhile, Roberta is left alone with a giant bug who tries to strike up a conversation with her before she leaves.
Ad blocker interference detected!
Wikia is a free-to-use site that makes money from advertising. We have a modified experience for viewers using ad blockers

Wikia is not accessible if you've made further modifications. Remove the custom ad blocker rule(s) and the page will load as expected.