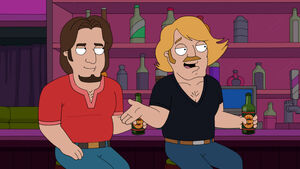 Justin Randall Timberlake (born January 31, 1981) is an American singer and actor. Originally serving as the lead singer of the boy band 'N Sync in the late nineties, he started a solo career in 2002. He has starred in several films, both in person and through voice acting, and has collaborated with Saturday Night Live on numerous occasions. He provided his voice for Paul, Terry's boyfriend, and Rallo's booger in "Terry Unmarried".
Ad blocker interference detected!
Wikia is a free-to-use site that makes money from advertising. We have a modified experience for viewers using ad blockers

Wikia is not accessible if you've made further modifications. Remove the custom ad blocker rule(s) and the page will load as expected.