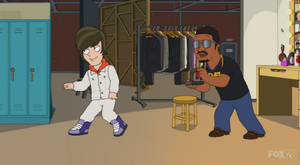 Justin Drew Bieber (born March 1, 1994) is a Canadian pop/R&B singer, songwriter and actor. Bieber's debut single, "One Time", was released in 2009 and peaked in the top ten in Canada and charted in the top thirty in several international markets. His debut album, My World, followed in November 2009, and was later certified platinum in the United States. He became the first artist to have seven songs from a debut album chart on the Billboard Hot 100.
When Cleveland spots a poster of Justin Bieber on Junior's wall in "The Men in Me", he mistakes it for a girl. When he finds out the truth, Junior tries to get him to listen to Bieber's song "Baby" but Cleveland dismisses the thought. Cleveland soon finds himself listening to the song everywhere and soon catches on to it. When a radio station gives away tickets to a Justin Bieber as part of a dance contest, Cleveland enters and wins but finds himself labeled "The Whitest Black Man in America" while Bieber is revealed to be a robot controlled by Usher. Cleveland to finally learn that happiness comes from being comfortable in your own skin. Cleveland invites his former nanny Barbara to the Justin Bieber concert but she turns him down to go to a rap concert so Cleveland takes Junior. As an epilog, Cleveland is arrested as part of a pedophile sting.
Hunter asks why people follow Justin Bieber instead of "Jesus Believer" in "Jesus Walks".
Bieber is voiced by Max Burkholder.
Ad blocker interference detected!
Wikia is a free-to-use site that makes money from advertising. We have a modified experience for viewers using ad blockers

Wikia is not accessible if you've made further modifications. Remove the custom ad blocker rule(s) and the page will load as expected.