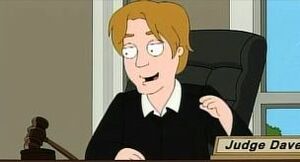 Judge Dave is the laid-back judge that presides over cases in the Stoolbend County Courthouse. His demeanor and sense of humor are reminiscent of Judge Harry Stone of TV's Night Court.
In "Brown History Month", when Lester and Cleveland get into a fight over why there should be a 'black' anything, let alone a Black History Month, Lester charges Cleveland with a hate crime. Judge Dave sentences the two of them to work together on a unity Parade float.
Judge Dave is voiced by Glenn Howerton.
Ad blocker interference detected!
Wikia is a free-to-use site that makes money from advertising. We have a modified experience for viewers using ad blockers

Wikia is not accessible if you've made further modifications. Remove the custom ad blocker rule(s) and the page will load as expected.