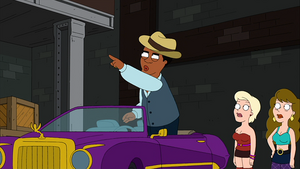 Joshua "Josh" Gad (born February 23, 1981) is an American film, television, and stage actor known for the Broadway musical The Book of Mormon and in the television series Back to You. Gad has also appeared in episodes of ER, The Daily Show, Modern Family, New Girl and Numb3rs and provided a voice on American Dad!. His film appearances include The Rocker, Crossing Over and She Wants Me.
He voices a pimp as well as one of Momstabba's henchmen in "Our Gang".
Ad blocker interference detected!
Wikia is a free-to-use site that makes money from advertising. We have a modified experience for viewers using ad blockers

Wikia is not accessible if you've made further modifications. Remove the custom ad blocker rule(s) and the page will load as expected.