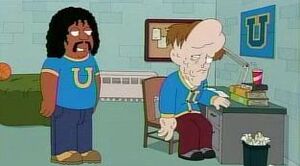 Joseph Carey Merrick (5 August 1862 – 11 April 1890) was an Englishman who became known as "The Elephant Man" because of his physical appearance caused by a congenital disorder. Because of his condition, he would garner the sympathy of the United Kingdom of Great Britain and Ireland during the great Victorian era. He has often been incorrectly called John Merrick.
He appears as Cleveland's well-endowed college roommate in "The One About Friends". In this episode, Cleveland addresses him as big-fat-ugly-tumor-head man. Merrick says they call him the elephant man for another reason. As he reaches for his pants, it is followed by Cleveland's facial skin blasted backwards as an elephant's trumpeting noise is heard.
Voiced by Alec Sulkin.
Ad blocker interference detected!
Wikia is a free-to-use site that makes money from advertising. We have a modified experience for viewers using ad blockers

Wikia is not accessible if you've made further modifications. Remove the custom ad blocker rule(s) and the page will load as expected.