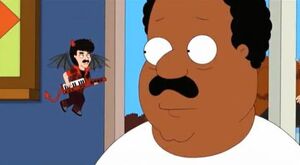 John Oates is a singer-songwriter and, with Daryl Hall part of the famous singing duo Hall & Oates.
He and Hall play their likenesses as Cleveland's devil and angel. Together they sing their hit song "Maneater" in "A Brown Thanksgiving".
They have a guest appearance at the re-marriage of Evelyn LeVar Brown in "You're the Best Man, Cleveland Brown".
The two also appear in "Ship'rect" to argue over whether or not Cleveland should abandon his friends to become Barry Shadwell's teammate in the Stoolbend floaterboat Race.
Ad blocker interference detected!
Wikia is a free-to-use site that makes money from advertising. We have a modified experience for viewers using ad blockers

Wikia is not accessible if you've made further modifications. Remove the custom ad blocker rule(s) and the page will load as expected.