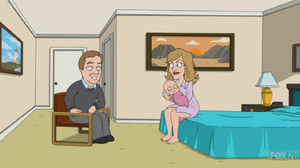 Johnny Reid "John" Edwards (born June 10, 1953) is an American politician, who served as a U.S. Senator from North Carolina. He was the Democratic nominee for Vice President in 2004, and was a candidate for the Democratic presidential nomination in 2004 and 2008. On June 3, 2011, Edwards was indicted by a North Carolina grand jury on six felony charges of violating multiple federal campaign contribution laws to cover up an extramarital affair he admitted to following his 2008 campaign.
When Donna questions where Rallo learned how to give insincere apologies in "American Prankster", he states it was from watching John Edwards. A cutaway gag shows John apologizing for making Rielle Hunter wait for him to propose until his wife died.
Ad blocker interference detected!
Wikia is a free-to-use site that makes money from advertising. We have a modified experience for viewers using ad blockers

Wikia is not accessible if you've made further modifications. Remove the custom ad blocker rule(s) and the page will load as expected.