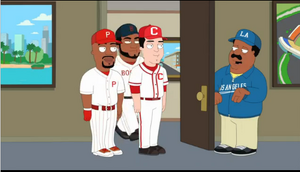 James Calvin "Jimmy" Rollins (born November 27, 1978) is an All-Star and former MVP shortstop, who plays for the Philadelphia Phillies of Major League Baseball's National League.
Rollins appears as himself in "California Dreamin'" when Cleveland accidentally recruits professional baseball players from other teams when he tries to be a scout for the Los Angeles Dodgers.
Ad blocker interference detected!
Wikia is a free-to-use site that makes money from advertising. We have a modified experience for viewers using ad blockers

Wikia is not accessible if you've made further modifications. Remove the custom ad blocker rule(s) and the page will load as expected.