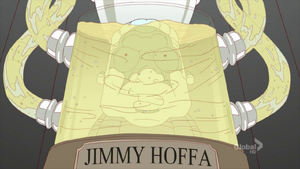 James Riddle "Jimmy" Hoffa (born February 14, 1913 – disappeared July 30, 1975) was an American labor union leader.
Hoffa disappeared at, or sometime after, 2:45 pm on July 30, 1975, from the parking lot of the Machus Red Fox Restaurant in Bloomfield Township, an affluent suburb of Detroit. According to what he had told others, he believed he was to meet there with two Mafia leaders; Anthony Giacalone and Anthony Provenzano.
When Hoffa did not return home that evening, his wife reported him missing. Police found Hoffa's car at the restaurant but no sign of Hoffa himself or any indication of what happened to him. Hoffa was declared legally dead in 1982, on the seventh anniversary of his disappearance, when he would have been aged 69.
Hoffa appears in "Menace II Secret Society" where the Rap Illuminati notes they drink beer with his head.
Ad blocker interference detected!
Wikia is a free-to-use site that makes money from advertising. We have a modified experience for viewers using ad blockers

Wikia is not accessible if you've made further modifications. Remove the custom ad blocker rule(s) and the page will load as expected.