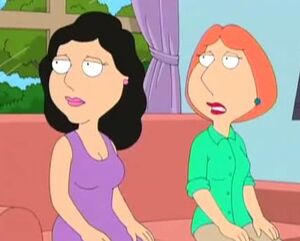 Jennifer Tilly (born September 16, 1958 in Harbor City, California) is an actress most famous for her role opposite Gina Gershon in the movie "Bound" (1996). Off-camera, she is an accomplished poker player who won the 2005 Ladies Championship at the World Series of Poker. Formerly married to The Simpsons producer Sam Simon, she is currently dating poker professional Phil Laak.
On Family Guy, Jennifer Tilly voices the role of Bonnie Swanson, the wife of paraplegic policeman Joe Swanson. She reprised the role in the "Pilot" episode of The Cleveland Show.
Ad blocker interference detected!
Wikia is a free-to-use site that makes money from advertising. We have a modified experience for viewers using ad blockers

Wikia is not accessible if you've made further modifications. Remove the custom ad blocker rule(s) and the page will load as expected.