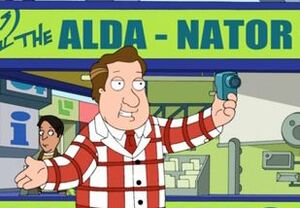 Jeff Bergman is a celebrity impersonator. He can do many impersonations of real celebrities as well as of cartoon characters. He lent his voice to Bugs Bunny and a handful of other favorite Warner Bros. characters for such projects as "Tiny Toon Adventures". He also has a recurring role on Family Guy.
Bergman uses his Alan Alda impression as the voice of the Alda-Nator in "Love Rollercoaster" as well as impersonating Garrison Keillor in "Buried Pleasure".
Ad blocker interference detected!
Wikia is a free-to-use site that makes money from advertising. We have a modified experience for viewers using ad blockers

Wikia is not accessible if you've made further modifications. Remove the custom ad blocker rule(s) and the page will load as expected.