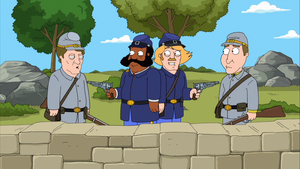 Jeff is one of the Confederate reenactors for The Battle of Stoolbend in "The Blue And The Gray And The Brown". When Cleveland and Terry sneak up on him and his partner, he is shot by Cleveland but objects to Cleveland not followig the battle was originally recorded. When his partner points out that as they were still "killed", they have to play by the rules. Jeff objects to his partner's Tevas, which he explains was intended for a trip to the lake after the battle. Resigning themselves, Jeff and his partner play dead.
Ad blocker interference detected!
Wikia is a free-to-use site that makes money from advertising. We have a modified experience for viewers using ad blockers

Wikia is not accessible if you've made further modifications. Remove the custom ad blocker rule(s) and the page will load as expected.