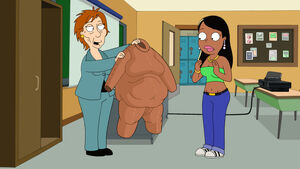 Jane Lynch is an American writer, singer, actress, and comedian. She is best known for her roles in television shows such as Two and a Half Men and Glee and movies such as The 40-Year-Old Virgin.
She voices Ms. Eck in "Love Rollercoaster" and reprises her Emmy-winning role of Sue Sylvester in "How Do You Solve a Problem Like Roberta?".
Ad blocker interference detected!
Wikia is a free-to-use site that makes money from advertising. We have a modified experience for viewers using ad blockers

Wikia is not accessible if you've made further modifications. Remove the custom ad blocker rule(s) and the page will load as expected.