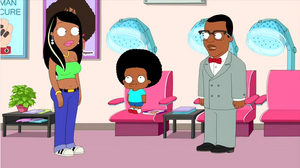 Jamal is a black Muslim that Rallo tries to hook up with Roberta after she breaks up with Federline in "Brownsized".
When Roberta stops by the Beauty Call Salon for a manicure, she finds Rallo there supposedly there to get his hair done. Rallo first tries to hook her up with Reggie but she objects to his karate shoes. When Rallo introduces Jamal next, Jamal snaps for Roberta to cover he head and she sends him packing as well as a host of other candidates Rallo had lined up.
Ad blocker interference detected!
Wikia is a free-to-use site that makes money from advertising. We have a modified experience for viewers using ad blockers

Wikia is not accessible if you've made further modifications. Remove the custom ad blocker rule(s) and the page will load as expected.