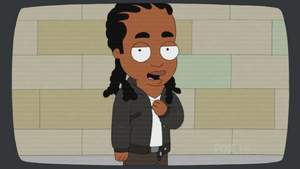 Jaden Christopher Syre Smith (born July 8, 1998) is an American child actor, rapper, songwriter, dancer, and the son of Will Smith and Jada Pinkett Smith. He is the elder brother of singer Willow Smith. His breakthrough role was in the 2006 film The Pursuit of Happyness.
In "The Way the Cookie Crumbles", Willow Smith is introduced simply as "Jaden Smith's sister."
While waiting for the bus to take him to juvenile detention in "American Prankster", Rallo is forced to watch a "scared straight" video starring Jaden Smith who notes he has to appear in everything. When Cleveland Brown Jr. finds Rallo later after he runs away, Rallo cries that he doesn't want to be Jaden who inherited his mother's charm and his father's modesty.
Ad blocker interference detected!
Wikia is a free-to-use site that makes money from advertising. We have a modified experience for viewers using ad blockers

Wikia is not accessible if you've made further modifications. Remove the custom ad blocker rule(s) and the page will load as expected.