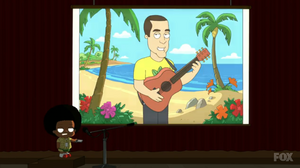 Jack Hody Johnson (born May 18, 1975) is a singer-songwriter, surfer and musician known for his work in the soft rock and acoustic genres. In 2001, he achieved commercial success after the release of his debut album, Brushfire Fairytales. He has since released four more albums, a number of EPs and surfing movies/soundtracks. He is also known for organizing an annual event, the Kōkua Festival.
Rallo cites the export of Jack Johnson music as a major African export in a class presentation in "How Cleveland Got His Groove Back" when he is led to believe his family trip which was supposed to go to Africa but instead stays in Hawaii.
Ad blocker interference detected!
Wikia is a free-to-use site that makes money from advertising. We have a modified experience for viewers using ad blockers

Wikia is not accessible if you've made further modifications. Remove the custom ad blocker rule(s) and the page will load as expected.