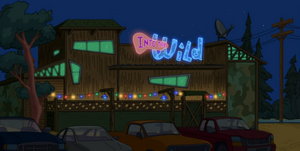 Into the Wild is a gay bar that Cleveland and his friends stumble into when they try to find something new to do when Cleveland discovers he is suddenly single in "Terry Unmarried". On Holt's advice that the bar had a reputation as a wild place, they note the guys dancing and condoms on the tables. It's when they also notice the overweight women in the bar they deduce that it is a gay bar. Cleveland attempts to lead the guys out but they each end up with a dance partner except Holt, who remains alone. When they do get to leave at the end of the evening, they discover Terry Kimple in a passionate embrace with another man.
Ad blocker interference detected!
Wikia is a free-to-use site that makes money from advertising. We have a modified experience for viewers using ad blockers

Wikia is not accessible if you've made further modifications. Remove the custom ad blocker rule(s) and the page will load as expected.