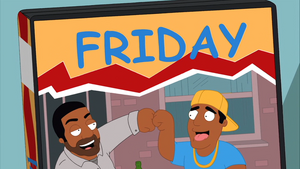 O'Shea Jackson (born June 15, 1969), better known by his stage name Ice Cube, is an American hip hop artist, record producer, actor, screenwriter, film producer, and director. He began his career as a member of the hip-hop group C.I.A. and later joined N.W.A (Niggas With Attitudes). After leaving N.W.A in December 1989, he built a successful solo career in music, and also as a writer, director, actor and producer in cinema. Additionally, he has served as one of the producers of the Showtime television series Barbershop and the TBS series Are We There Yet?, both of which are based upon films in which he portrayed the lead character.
In "The Men in Me", Cleveland picks up a DVD copy of Friday starring Ice Cube and Chris Tucker at Blackbuster.
Ad blocker interference detected!
Wikia is a free-to-use site that makes money from advertising. We have a modified experience for viewers using ad blockers

Wikia is not accessible if you've made further modifications. Remove the custom ad blocker rule(s) and the page will load as expected.