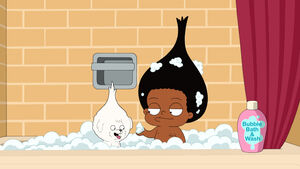 A promo image from a scene of Rallo giving Rock Hudson a bubble bath was not used in the original broadcast episode.
LeVar Brown turns 63 in this episode.
Doona reads Garth's Brooks...Jennie Garth's Guide to America's Smallest Streams.
Rallo rejects a flyer looking for a bassist for the band STYX.
One of the dogs Junior and Rallo catch resembles Brian Griffin from Family Guy although the dog tells them that they are not the same.
Cleveland reveals that LeVar writes mystery novels under the pseudonym of Jocelyn Elderwood.
Cleveland claims to have lost his virginity by accidentally masturbating while reaching for the joystick to his Atari 2600 game console.
Cleveland Brown Jr. and Rallo role-play as Jack Sparrow and Blackbeard from Pirates of the Caribbean.
Ad blocker interference detected!
Wikia is a free-to-use site that makes money from advertising. We have a modified experience for viewers using ad blockers

Wikia is not accessible if you've made further modifications. Remove the custom ad blocker rule(s) and the page will load as expected.