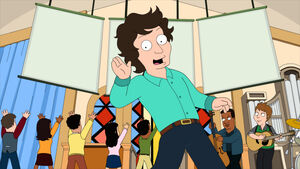 Hunter is a member of the church choir who is secretly Jewish but joined in order to get closer to fellow church choir girl Vanessa. But when she catches Cleveland Jr.'s eye in "Jesus Walks", Hunter faces off with Jr. on a church trip to be in her good graces and to win her for himself, but when the truth is revealed that neither Hunter or Junior are Christian, Vanessa becomes sexually attracted to their misdeed, frightening the two.
Hunter is voiced by Darren Criss.
Ad blocker interference detected!
Wikia is a free-to-use site that makes money from advertising. We have a modified experience for viewers using ad blockers

Wikia is not accessible if you've made further modifications. Remove the custom ad blocker rule(s) and the page will load as expected.