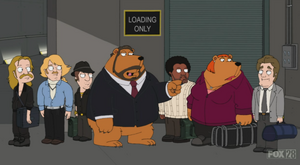 Huey Lewis (Hugh Anthony Cregg III, born July 5, 1950) is an American musician, songwriter and occasional actor.
Lewis sings lead and plays harmonica for his band Huey Lewis and the News, in addition to writing or co-writing many of the band's songs. The band is perhaps best known for their third album Sports and their contribution to the soundtrack of the 1985 feature film Back to the Future. Lewis previously played with the band Clover from 1972 to 1979.
Huey Lewis appears as the "Guy Who Looks Like Huey Lewis", a reference to a terrorist in the movie Die Hard that resembled Lewis, in "Die Semi-Hard".
Ad blocker interference detected!
Wikia is a free-to-use site that makes money from advertising. We have a modified experience for viewers using ad blockers

Wikia is not accessible if you've made further modifications. Remove the custom ad blocker rule(s) and the page will load as expected.