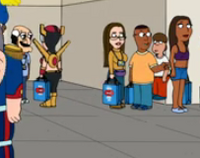 Comic Book Guy is the third character from The Simpsons to cameo on The Cleveland Show, the first being Carl Carlson on "Brown History Month" followed by Bart Simpson on "Cleveland Live!".
Even though he appeared on the promotional poster, Tim does not appear in this episode. Neither do Lester or Holt.
In the episode, a character is seen with a Herbert mask on for a second.
A Bender costume from Futurama can be seen when Donna and Cleveland chase Robert Rodriguez in the pedicab.
The opera music playing during the fountain scene is soprano Maria Callas, singing the aria "La mamma morta", from Andrea Chénier by Umberto Giordano.
Cleveland Jr. waits in line with other costumed nerds for a live staging of Dr. Horrible's Sing-Along Blog, a viral sensation created by Joss Whedon. While on line, one nerd says that Firefly (another Whedon creation) is overrated, to which Cleveland Jr. agrees.
Cleveland calls Donna "Donna Tubbs" in a flashback as a youth. Despite marrying Robert Tubbs, her mother Dee Dee Tubbs also shares the same surname.
Ad blocker interference detected!
Wikia is a free-to-use site that makes money from advertising. We have a modified experience for viewers using ad blockers

Wikia is not accessible if you've made further modifications. Remove the custom ad blocker rule(s) and the page will load as expected.