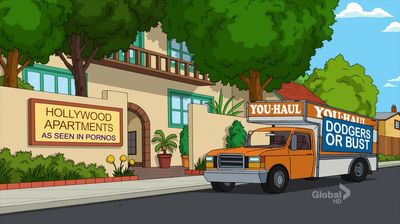 The Hollywood Apartments is where Cleveland and the family move to in Los Angeles when Donna decides to help Cleveland live his original dream to become a baseball scout in "California Dreamin'".
While Cleveland finds out that scouting involves lots of real work, the rest of the family gets caught up in the lifestyle of California. Cleveland meets his new neighbor, an aspiring actress named Gina and she takes him to The Grove, a community that makes Cleveland homesick for Stoolbend. When Cleveland finds out that he can't convince his family to leave, he sends them a message online that he has returned and makes them homesick as well after showing them all of their old friends. They suddenly find they want to go home just as an earthquake strikes. As the walls split, the family finds they were really fooled by a Hollywood production put together by Gina inside of her own conveniently over-sized apartment next door with actors filling in for their old friends.
Ad blocker interference detected!
Wikia is a free-to-use site that makes money from advertising. We have a modified experience for viewers using ad blockers

Wikia is not accessible if you've made further modifications. Remove the custom ad blocker rule(s) and the page will load as expected.