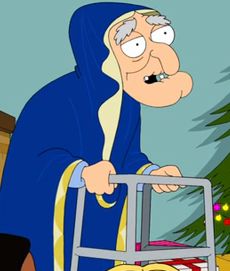 John Herbert is an elderly pedohebephile[1] who lives on Spooner Street in Quahog with his old, crippled dog, Jesse. He has a high-pitched, very soft, effeminate voice and with a slight whistle lisp. He is often seen wearing a light blue robe and slippers and uses a zimmer-frame walker to get around. He is a retired United States Army veteran.
Herbert made an appearance at Cleveland and Donna's wedding in the Pilot episode. Although silent in the Pilot, Herbert is voiced by Mike Henry who also voices Cleveland and Rallo.
When Cleveland talks about how much better Lloyd Waterman's Christmas party is than Herbert's in "A Cleveland Brown Christmas", a scene is shown with Herbert singing Silent Night to Cleveland and some children.
In "It's the Great Pancake, Junior Brown", Cleveland Jr. recalls trick-or-treating at Herbert's house and Herbert living in a suitcase in his room in "Murray Christmas".
Herbert comments on "I'm Paying a Young Boy for Sex" in "A General Thanksgiving Episode".
Appearances
Ad blocker interference detected!
Wikia is a free-to-use site that makes money from advertising. We have a modified experience for viewers using ad blockers

Wikia is not accessible if you've made further modifications. Remove the custom ad blocker rule(s) and the page will load as expected.